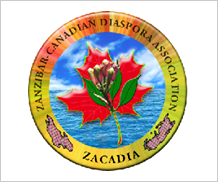 Zanzibar - Canadian Diaspora Association (ZACADIA) was formed with main objective is to act as a bridge with our homeland (Zanzibar) and effectively coordinate/facilitate Diaspora investment and encourage the transfer of technology to the Isles.
Definitely, there is no doubt in the minds of non-resident Zanzibaris that Zanzibar is now changing in multi-lateral fronts for the better. With these changes a new department of International Cooperation and Zanzibar Diaspora was born in August, 2010, under the Ministry of State in the President's and Chairman of the Revolutionary Council's Office. This indeed is a clear manifestation that our country has realized that Zanzibaris living abroad can contribute immensely towards the progress of their country as have other people of other countries. This realization will be meaningful only if it is accompanied by a desire of all Zanzibaris living abroad to come together in unison with their meagre resources and form a formidable task force that would gear ahead and fast-track the socio-economic changes that for decades we Zanzibaris have been cherishing and longing for our motherland.
ZACADIA (Zanzibar - Canadian Diaspora) is such a force here in Canada whose main objective is to encourage, facilitate, coordinate and act as a bridge between Zanzibaris living in Canada and our homeland.
ZACADIA is in direct contact with the Zanzibar Government on the welfare of non-resident Zanzibaris living in Canada. Thus, if you live in Canada, please, join hands with ZACADIA in our efforts to rescue our country from a socio-economic quagmire in which most countries are today wallowing in.
ZACADIA craves to work hand in gloves with all Zanzibaris in Canada in contributing towards the social development of Zanzibaris the world over.